BERNINA 325, 335, L450, & L460 are on sale! Nov 14-30.



We have some bernette machine offers Nov 14 - Dec 31, 2019.


Get a BERNINA Stitch Regulator with purchase of the B475 or B480. Nov 14 - Dec 31, 2019.





Ultimate Embroidery Package Deal

! Purchase a B590, B790 Plus, or B880 Plus and get free gifts with it. You'll receive the Big Book of Embroidery, set of 3 BERNINA scissors, BERNINA accessory bag, Midi hoop, USB stick with 600 embroidery designs and BERNINA embroidery software v8. This value is $4,537. Additionally the B790Plus will also receive D feet and the Maxi hoop for a total value of $5,336. The B880 Plus will receive all that but instead of the Maxi hoop it come with the Jumbo hoop for a total value of $5,386.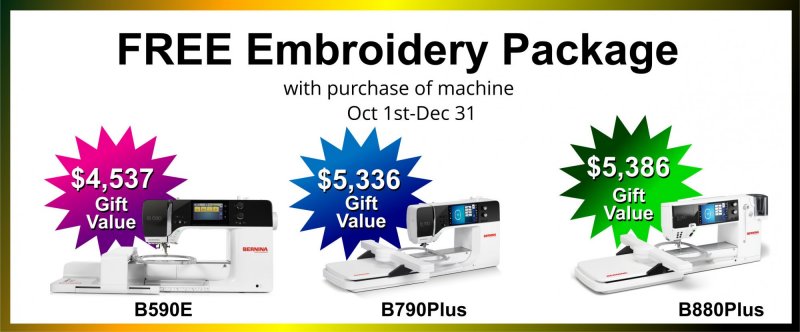 Longarm Q-series Bundle Deal! Oct 1-Dec 31, 2019.
The sit down Q20 longarm: for $11,499 you get the Q20 with cabinet, dust cover, BERNINA chair, gripper rings, and Q-series gift box.
The Q24 longarm: for $30,998 you get the Q24 on frame, qmatic, zippered leaders, batting bar, frame casters, and Q-series gift box.
Q-series gift box includes: twin needle stitch plate, vertical and horizontal spool holders, free motion #43 foot, three sets of M class bobbins, assorted quilting needles, and laser pointer.


Looking for the Tula Pink special editions? We are out of stock of the B770QE but we have a few B570QE Tula's left. You also get a free gift with purchase that includes the embroidery module, BERNINA Toolbox Editing software, Tula Pink hardware set, BERNINA accessory bag, and Tula Pink's "The Quilting collection", "The Imaginary Menagerie" and "The Imaginary Menagerie II". Gift value $2,242. Limited quantity of B570QE Tula Pink Special Editions available!